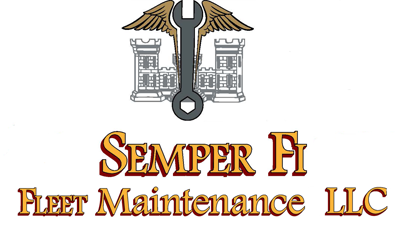 APPOINTMENT
Hours


Mon

9:00AM - 5:00PM

Tue

9:00AM - 5:00PM

Wed

9:00AM - 5:00PM

Thu

9:00AM - 5:00PM

Fri

9:00AM - 5:00PM

Sat

Closed

Sun

Closed

Semper Fi Fleet Maintenance Service LLC

444 West Lake Street
Suite 1700
Chicago, IL 60606
872-228-7825
Semper Fi Fleet Maintenance Service LLC offers truck repair services to Wheeling, IL
If you are in need of a trustworthy fleet mechanic near Wheeling, we hope you choose our local repair shop! Here's some information about us.
Who? Semper Fi Fleet Maintenance Service LLC - We are Wheeling's leading choice in truck repair. Our staff is well-trained with the goal of consistent and great customer service.
Where? Located conveniently for Wheeling companies, our address is 444 West Lake Street
Suite 1700.
What? Fleet General Services, Fleet Brakes, Fleet Drive Train, Fleet Electrical, Fleet Engine Work, Fleet Front End Services, Fleet Suspension Work, Fleet Wheel Services, Fleet Trailer Work, and Fleet Welding Services
When? Schedule an appointment now by contacting us online or calling 872-228-7825. Don't let your truck go unattended.
Thank you for considering Semper Fi Fleet Maintenance Service LLC!
Semper Fi Fleet Maintenance Service LLC
444 West Lake Street
Suite 1700
Chicago, IL 60606
872-228-7825