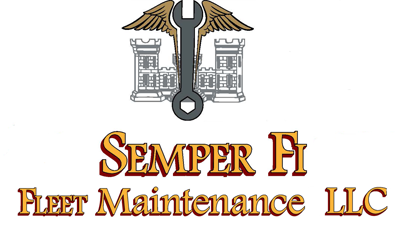 APPOINTMENT
Hours


Mon

9:00AM - 5:00PM

Tue

9:00AM - 5:00PM

Wed

9:00AM - 5:00PM

Thu

9:00AM - 5:00PM

Fri

9:00AM - 5:00PM

Sat

Closed

Sun

Closed

Semper Fi Fleet Maintenance Service LLC

444 West Lake Street
Suite 1700
Chicago, IL 60606
872-228-7825
Semper Fi Fleet Maintenance Service LLC offers truck repair services to Burbank, IL
Looking for an truck repair estimate for parts or service in Burbank, IL? Since 2012, Semper Fi Fleet Maintenance Service LLC has been delivering professional and competitively priced fleet repair to the Burbank area.
Today, people want to hold on to their trucks longer, and we understand. That's why we provide preventative maintenance like oil changes and other typical services including Fleet General Services, Fleet Brakes, Fleet Drive Train, Fleet Electrical, Fleet Engine Work, Fleet Front End Services, Fleet Suspension Work, Fleet Wheel Services, Fleet Trailer Work, and Fleet Welding Services that trucks need to last longer on the road.
Trust Semper Fi Fleet Maintenance Service LLC, where we understand what you are looking for in fleet repair. At our shop, customer satisfaction is the ultimate goal!
Semper Fi Fleet Maintenance Service LLC
444 West Lake Street
Suite 1700
Chicago, IL 60606
872-228-7825